# 01: Cultivate gratefulness
Developing a sense of gratitude is one of the most effective ways to improve mental well-being. A few small habits to implement for real benefits on your happiness.
What is Gratitude ?
There are two elements that make up a feeling of gratitude.
1. Positive affirmations: We recognize the good we have in our lives. This doesn't mean that we should ignore all our problems and troubles and pretend like we are living a perfect life. It is however about recognizing what is going well in our lives.
2. Identifying the source of the good that happens to us: we understand that this comes from outside of us and binds us with humbleness to others.
THE EFFECTS OF PRACTICING GRATITUDE
The effects of a regular practice of gratitude are well studied for more than 10 years now. Incorporating gratitude in our daily lives has several positive effects on our body, our health, our psychological wellness, and our relationships with others.
Better Physical Health
Stronger immune system

Decrease in pain levels

Blood pressure regulation

Improvement of sleep quality and feeling of rest
Better Mental Wellness
More positive emotions

Feeling more present

More optimism and well-being
Better social behaviour
More generosity, support, and compassion

Forgiving comes easier

Feeling less isolated and lonely
In addition to these effects, gratitude allows us to enjoy the present moment by intensifying positive emotions, hence offering less space and weight to toxic and negative thoughts.
Several research studies have shown that those who practice gratitude are more stress resistant and more likely to recover easily when faced with adversity.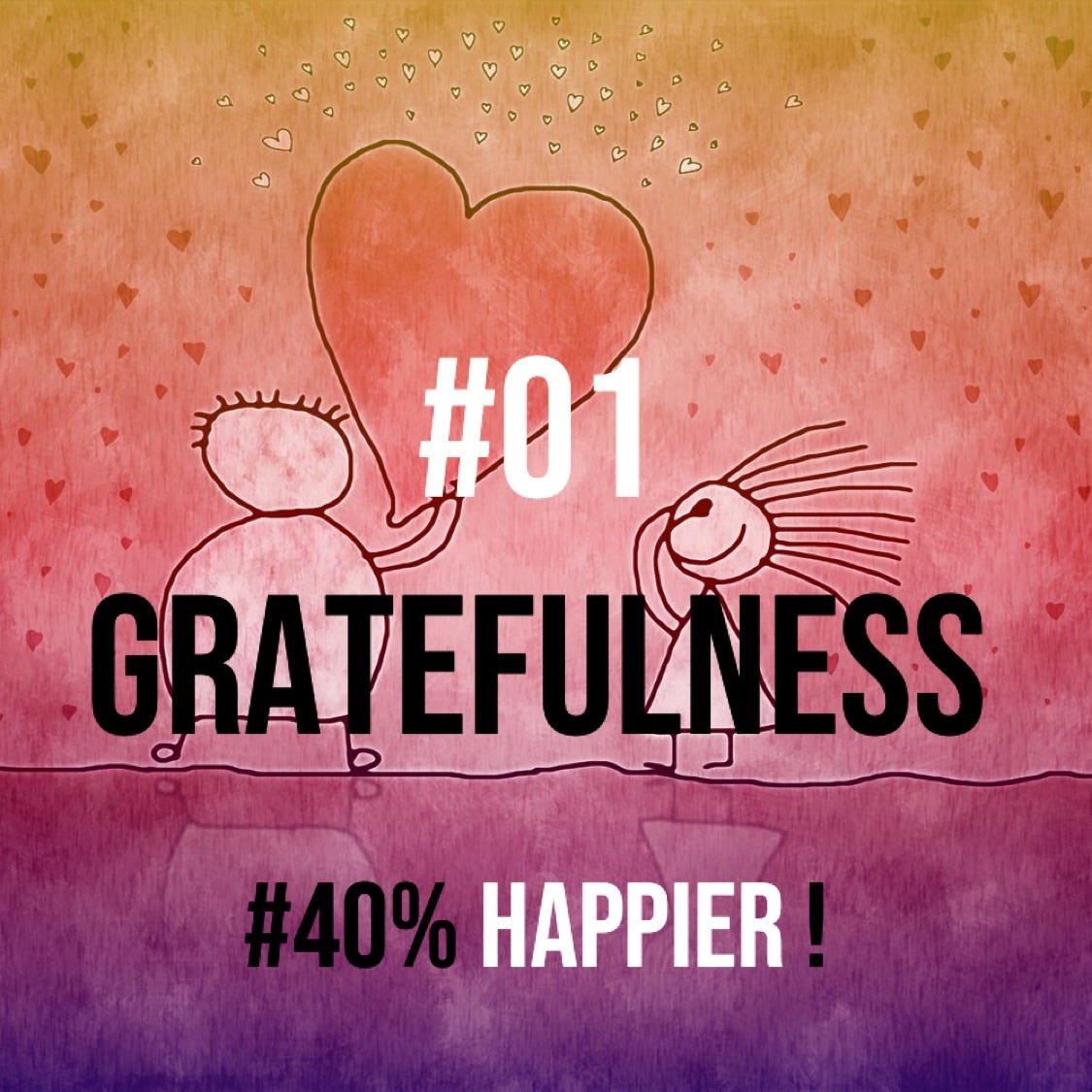 HOW TO PRACTICE?
There are many ways but the most common is to keep a gratitude journal.
Every week you write down 5 things for which you are grateful. This is a way to highlight the good things in your life and focus more on the positive.
Another way can be by identifying, every morning or every night, 3 aspects of your day for which you are thankful. You don't even need to write them down, just have them come to mind…
Last of all, you can find here a link to a 5-minute guided meditation on gratitude that can help you in cultivating it daily.
DIVING DEEPER
Join 40% Happier private Facebook group to get the community's advice and support and access our free weekly Live (you should always use the same email address you have used to subscribe to the newsletter)
Recommended Reading:
"The Little Book of Gratitude: Create a Life of Happiness and Wellbeing by Giving Thanks", by Robert Emmons, one of the leading experts on gratitude
WEEKLY MEDITATION